Sorry for the silence, have been in a kind of winter dormancy… 🙂
But now I´m heading to visit another urban beauty… New York City! … and the famous Armory Show, doing interviews, publishing reviews.
New York City, Preview March 5, show March 6 – 9

This year´s famous Armory Show has a special focus on contemporary art from China, curated by Philip Tinari from Beijing´s UCCA.
The modern version of The Armory Show has been founded in 1994 under the name of Gramercy International Art Fair and has been re-called The Armory Show in 1999. The name was an homage to the legendary 1913 exhibition – where Marcel Duchamp´s Nude Desecending a Staircase caused a huge stir!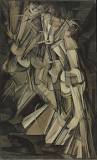 Further bits: