Mehr als Mozart & Mao!
Alltagsgeschichten aus Österreich und China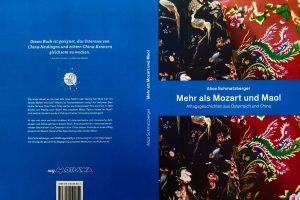 Book by Alice Schmatzberger on the occasion of 50 years of diplomatic relationship between Austria and China.

Publisher: Morawa-Verlag, November 2021 (in German language).
Order:  here
50 conversations with Austrian and Chinese personalities from the fields of art & culture, media, science & research and business.  The diversity of these subjective voices results in an overall picture of the multi-layered realities in the respective countries – and this beyond the often clichéd media coverage.
Wie_Alles_Begann (pdf), Introduction.
Comment in Wiener_Zeitung (pdf), 15 November 2021
---
50 Jahre österreichisch-chinesische Beziehungen. Urbane Überlegungen.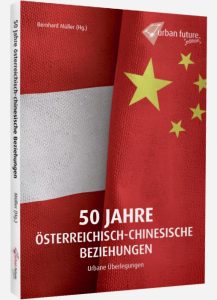 Anthology focusing on topics connected to urbanity ein Austria and China.
Edited 2021 by:
Bernhard Müller, von 2005–2015 ehemaliger Bürgermeister der Statutarstadt Wiener Neustadt und seitdem Generalsekretär Urban Forum – Egon Matzner-Institut für Stadtforschung.
---
Pictorial City.
Urbane sceneries in contemporary photography art in China.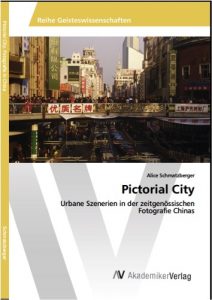 Seit Mitte der 1990er Jahre staunt die westliche Welt über die vielfältige und dynamische zeitgenössische Kunst Chinas. Insbesondere die Fotografie ist in ihrer Motivwahl und Bildsprache untrennbar mit den gesellschaftlichen Transformationen verbunden. Anhand der Arbeiten ausgewählter chinesischer Künstler und Künstlerinnen wird gezeigt, wie sich die Themen Urbanität, die Änderungen im städtischen Gefüge und die damit verbundenen gesellschaftlichen Konsequenzen in der zeitgenössischen chinesischen Fotografie widerspiegeln. Dieses Buch bietet einen Einblick in das moderne urbane China und seine Kunst als Ausdruck der jeweiligen Lebenswelt.
AkademikerVerlag 2017
Bestellung: amazon, thalia.