… Wang Shu.  In 2012 the Hangzhou-based architect Wang Shu has been awarded the prestigious Pritzker Architecture Prize – sometimes also called the Nobel Prize for Architecture – as first Chinese citizen ever. Together with his wife and business partner Lu Wenyu he is running the Amateur Architecture Studio. "I design a house instead of a building." (Wang Shu)
In some way, Wang Shu is criticising modern-day architecture. Not so much by direct words (that would be rather un-Chinese-like) but rather by his use of traditional material – e.g. re-using old bricks having been left over from demolished buildings – by transferring traditional aesthetics softly into the 21st century and by promoting a kind of "slow-architecture". "My idea is that instructors, like Buddha, teach in the open air," he says, "People can realize free communication without boundaries," and "I want to educate my students to become philosophical craftsmen, equipped with both thinking and technique."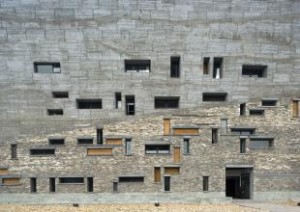 The Jury Citation…
… especially emphasises the connection between past & present in Wang Shu´s oeuvre which is famous for its conjunction of traditional Chinese materials and styles with contemporary aesthetics, for its use of pure forms and plain structures. At the same time his architecture always integrates the surrounding environment.
"The question of the proper relation of present to past is particularly timely, for the recent process of urbanization in China invites debate as to whether architecture should be anchored in tradition or should look only toward the future. As with any great architecture, Wang Shu´s work is able to transcend that debate, producing an architecture that is timeless, deeply rooted in its context and yet universal. … Using recycled materials, he is able to send several messages on the careful use of resources and respect for tradition and context as well as give a frank appraisal of technology and the quality of construction today, particularly in China." (Jury citation)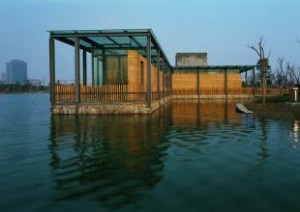 From Wang Shu´s acceptance speech
"Are my buildings deeply rooted in my own culture?" Wang Shu asked himself. "… I chose to live in seclusion in the 1990s. I withdrew from the professional architecture system, and turned to the renovation of old buildings. And I realized that compared with modern buildings that are more about fabrication, there is another type of building that recognizes things that are already in existence. Unlike modern buildings that focus on abstract space, this other type of building focused on creating a sense of place and connecting with the past. And compared with buildings carrying a strong human imprint, traditional Chinese buildings are closer to nature, taking architecture to a whole new horizon. … What is the relevance of the traditional Chinese landscape system in a world filled with gigantic artificial structures? … How can new urban buildings connect with memories of the past–that might be otherwise lost as structures are demolished–and re-establish their cultural identities?" (Acceptance speech)
I believe: his architecture represents the wonderful timeless Chinese architectural aesthetics at its best, while at the same time incorporating the needs of the 21st century society.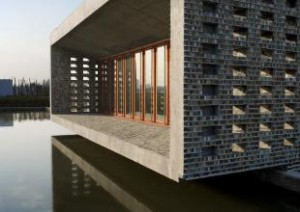 Further reading & images:
Take a look at Wang Shu´s website and further works.
An interesting contextualisation of Wang Shu´s approach towards urban development.
Wang Shu in conversation with Hans Ulrich Obrist (YouTube).
Live blog from the University of California/LA following a talk by Wang Shu from February, 27, 2012 – laying out many general aspects of Chinese painting, thinking, philosophy.
All images in this post taken from the Pritzker Prize Website.