Sitting in the BookWorm Cafe in Chaoyang District in Beijing. Although it is very famous especially among foreigners I hardly could find it the first time – looks like one of those temporary containers at construction sites! (yes, this pale green thing)
But inside you enjoy all those little things you need for a relaxed and comfortable afternoon: lounge music, fully loaden shaky book-shelves, free W-Lan – and depending on your actual mood you can choose between the classical being-in-a-country-or-culture-far-away-from-home-menu, i.e. caesar salad & a real coke (don´t like the diet nor the zero variety – if you´re going to do something, then do it) or you opt for the tasty local food. I love this atmosphere, it feels a bit like you are out of place & time.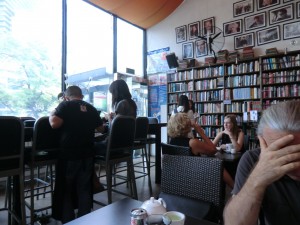 The Bookworm is a mix between China, a bit of the West, topped with a bit of improvisation, providing also this global apple-flair (uuups, advertising!). But what the hell are all these people doing here, tucked away behind their computers? Are they all blog-writers??
"The Bookworm is a bookshop, library, bar, restaurant and events space, now with five locations in three cities – Beijing, Suzhou and Chengdu."