Every traveller to China has stumbled over some of these everyday real-life things and tools. What you find here is just a small selection!
Some of the pictures are taken from the wonderful book Chinese Stuff (popcorn idea) depicting somewhat more than 100 objects including a short explanation – and some photographs I have taken during my several trips to China.
Sun Screen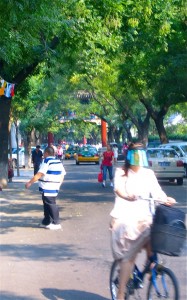 Gives you a bit of an alien-like look…
however, it is highly effective not only against the sunlight but also against dust, wind, or sand.
Mosquito Racket
No, this is not about sports! It´s an "electrical mosquito racket", and you use it just like a conventional flyswatter.
When you push the little button at the handle, the wire netting becomes charged up
and mosquitoes, flies whatever die because of the electric shock.
Well… nothing much to explain about this!
Exercise Book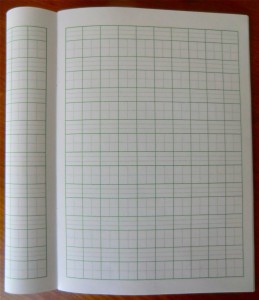 This exercise book I got from the Confucius Institute in Vienna,
for practising the writing of Chinese ideographs … still veeeery empty…
Mojo / Lucky Charms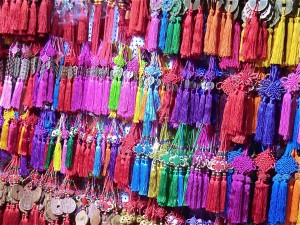 I love this inexhaustible diversity of colours and Chinese knot craft!
This "electrical tableau" is mounted to the wall like a traditional painting – and like a computer screen saver it changes its animated display continually. The most popular sceneries are landscapes and rivers or waterfalls. This "stuff" already arrived in Fine Art, I discovered this piece of art at the China International Gallery Exhibition in 2011, the landscape changes depict the cycle of seasons, and here you "watch" autumn turning into winter within a couple of seconds. I apologize for not remembering the artist´s name!
Checked Bag

Very popular already outside China, and already represented in high fashion and fine arts! Originally used as covering sheets at construction sites.
Coming soon: post on Chinese Food Stuff!
Further bits:
popcorn blog.
Book Chinese Stuff at amazon.