Exhibtion
Xu Hongxiang. One Night While Hunting for Faeries

Vernissage
5 June 2019, 7 pm
Galerie Loft 8
Radetzkystraße 4, 1030 Vienna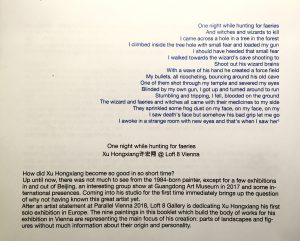 ---
PHOTO EXHIBITION

"Wochen der Hoffnung – Die Pekinger Studentenbewegung im Mai 1989"
Exhibition of photographies by Dr. Helmut Opletal, former ORF correspondent in China
More pictures here
Wednesday, 22 May 2019, 5.30pm
Campus Altes AKH, Spitalgasse 2
Institut für Ostasienwissenschaften/Sinologie
Hof 2, Eingang 2.3, Raum SIN 1 (1. Stock)
Ankuendigung_OPLETAL_Fotoausstellung (pdf)
---
Exhibition … Chinese Whispers
Contemporary Art From China – Collection Sigg
MAK Vienna
30.01.2019 – So, 26.05.2019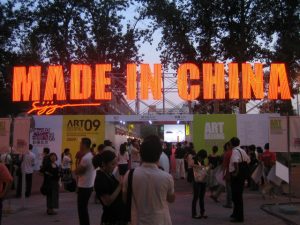 ---
Lecture … Philosophy of Science in China
7th International Symposium
"Philosophy of Science and Technology"
 Chinese Academy of Sciences
15. – 16. September 2018, Beijing

Report about the symposium & interview with Alice Schmatzberger
in China Science News, September 18, 2018
Translation: ChinaScienceNews_DE
Symposium Programme (pdf)
---
Environmental China
Article:
"Green China – Im Spannungsfeld von ökologischen, sozialen
und ökonomischen Herausforderungen"
in: Austrian Chinese Business Association
Annual Report 2018
ACBA_2018 (pdf)

---
Book release … Pictorial City
City Moves, City Ruins & City Plays:
in her recent book Alice Schmatzberger addresses art photography in urban China.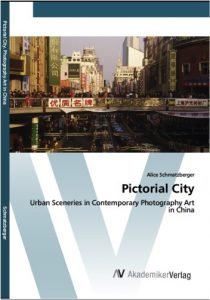 Get it @ Amazon
Since the early 1990s the world looked astonished at China´s multifaceted and vivid contemporary visual art. Urban art photography is particularly inseparable from depicting social transformations as regards its choice of motifs and visual language. Using the works of several selected Chinese artists as examples, this book shows how the topics city, changes in the urban structure and the transformations, not only social, associated with this are reflected in contemporary Chinese photography.
This book is aimed at all who are interested in gaining insight into today´s urban China and in visual art as mode of expression of everyday life experience.
---
Chairing … workshop on environmental issues in Beijing
On the occasion of the China delegation of Dr. Andrä Rupprechter, Federal minister for Agriculture & Environment, ChinaCultureDesk designed and moderated the "Bilateral Workshop Austria and China: Green Urban Development – Challenges in the fields of Air Quality and Waste Management / Circular Economy".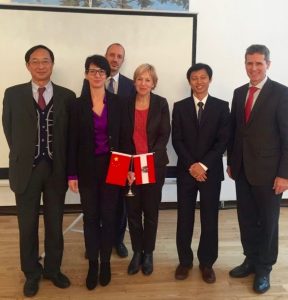 Austrian embassy in Beijing, November 2016.