China 21 – Talk #12 Movie
The Chinese Recipe: Bold and Smart

Der Film des Schweizer Regisseurs Jürg Neuenschwander (2016) nimmt uns mit auf eine Reise quer durch China zu Tüftlern und erfolgreichen Unternehmern, die eines eint: ihre Praxis von Shanzhai 山寨. Im Westen als "Kopieren" verpönt, ist es jedoch viel mehr: Innovation auf Chinesisch.

19 Oktober 2017, 6.30pm
Galerie ARCC.art Open Space,
Kaiserstraße 76, 1070 Vienna
CCD_Einladung_Filmabend (pdf)
---
Recommended … China Reading
Wang Jiaxin, Nachgereichte Gedichte.
Kubin Wolfgang, Das gesammelte frühe Werk in vier Bänden. Gedichte. Deutsch und Chinesisch.
Hai Rao, Guten Morgen, Chongqing! Changles Suche nach dem einfachen Glück.
Bergmann Ulrich/Distelmaier-Haas Doris, Meine Hand malt Worte. Gedichte aus China.
Deutsch und Chinesisch.
Richter Jiagu, Fachsprache Recht, Legal Language, Deutsch/Chinesisch/Englisch.
Organisator: Bacopa Verlag
Monday, 9 Oktober 2017, 7pm
KLAVIERgalerie, Kaisersaal, Kaiserstrasse 10/2, 1070 Vienna
Free entrance
---
Book release … Pictorial City
City Moves, City Ruins & City Plays:
in her recent book Alice Schmatzberger addresses art photography in urban China.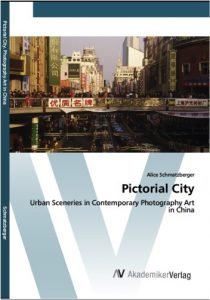 Get it @ Amazon
Since the early 1990s the world looked astonished at China´s multifaceted and vivid contemporary visual art. Urban art photography is particularly inseparable from depicting social transformations as regards its choice of motifs and visual language. Using the works of several selected Chinese artists as examples, this book shows how the topics city, changes in the urban structure and the transformations, not only social, associated with this are reflected in contemporary Chinese photography.
This book is aimed at all who are interested in gaining insight into today´s urban China and in visual art as mode of expression of everyday life experience.
---
We are co-organizing … Arts and Crafts Tours Suzhou
The next Chinese Arts and Crafts Tour to Suzhou and Shanghai will take place in
October 2017.
FULLY BOOKED!!
All details concerning itinerary, costs etc.:
A CHINESE ARTS AND CRAFTS TOUR 2017.pdf
Contact
Jasmin Ladenhaufen
Mobiltel.: +436805501902
e-Mail: jasmin@sil.at
A cooperation of
Jasmin Ladenhaufen,
SADTI Suzhou Art, Design & Technology Institute www.sgmart.com
ChinaCultureDesk
---
Chairing … workshop on environmental issues in Beijing
On the occasion of the China delegation of Dr. Andrä Rupprechter, Federal minister for Agriculture & Environment, ChinaCultureDesk designed and moderated the "Bilateral Workshop Austria and China: Green Urban Development – Challenges in the fields of Air Quality and Waste Management / Circular Economy".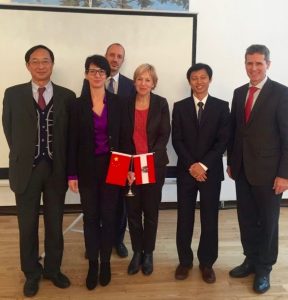 Austrian embassy in Beijing, November 2016.