Screening ….
"Black Snow"

Sunday, 12 March 2017
Bellaria Kino, 1070 Vienna
Screening: 11 am
followed by a discussion with XIE Fei
Eine Veranstaltung von Konfuzius-Institut auf Initiative von China Film Consult
---
Currently reading … A Billion Voices

by David Moser – depicting the fascinating story of modern Chinese, Putonghua 普通话.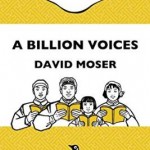 Find @ Amazon
---
Projekt "Play City – Sm-art C&V"
ChinaCultureDesk ist Kooperationspartner in diesem auf drei Semester angelegten Projekt zum Thema Smart City an der Universität für Angewandte Kunst Wien. Leitung: Brigitte Prinzgau-Podgorschek. In Kooperation mit Organhaus, Chongqing. Seit Oktober 2015.